Skip to Content
What Are Dentures?
Are you considering getting dentures? The team at Saddleback Dental Centre is here to help you learn about what dentures are, the types of dentures we provide to our patients, and how you can benefit from our care. Dentures have improved significantly over the years. In fact, most people can't even tell that people are wearing a type of dentures. Our dentures can either be full or partial. This means that you can replace the entire row of teeth on the top or bottom of your mouth or just a few that are missing. We custom-fit them to fit your mouth and your needs, adjusting for aesthetics and comfort.
In the past, dentures were made from porcelain and plastic, causing issues with comfort, looks, and function. Today, modern dentures are made from hard resin, which stands up longer and looks better. However, all dentures are slightly more fragile than your natural teeth. And you also need to care for them as your natural teeth, making sure to brush them and avoid foods that can damage them.
Types of Dentures We Provide
There are many different types of dentures that we provide at our Edmonton dental office. They include:
Full:- Full dentures are, as the name suggests, full teeth replacement devices that you wear to eat and speak. They replace entire missing areas of teeth and are removable. Also known as complete dentures, we will fit them in your top or bottom gum line. They are held in place by suction and sometimes with the help of an oral adhesive. These are also easily removable.
Partial:- Partial dentures are used when the surrounding natural teeth are not strong enough to support other replacement methods, such as dental bridges. We also may use partial dentures when more than two teeth are missing. We fit the partial dentures to be placed on the gumline and fasten them with nearby natural teeth to stay in place. Like full dentures, they are easily removable to clean and sleep.
Overdentures:- Overdentures are used if a patient finds full dentures to be too uncomfortable or if they do not have many natural teeth remaining. We fit the overdentures over the roots of the patient's natural teeth, resting on them or on dental implants.
Implant-Supported Dentures:- When a patient doesn't have enough natural teeth left to support dentures, we may need to install dental implants. These are strong, reliable posts that we affix to the patient's gums and roots that provide strong support for dentures and other dental replacement fixtures. Implant-supported dentures have many different application methods and possibilities. We'll help you determine what's right for your preferences and oral health after an in-depth assessment.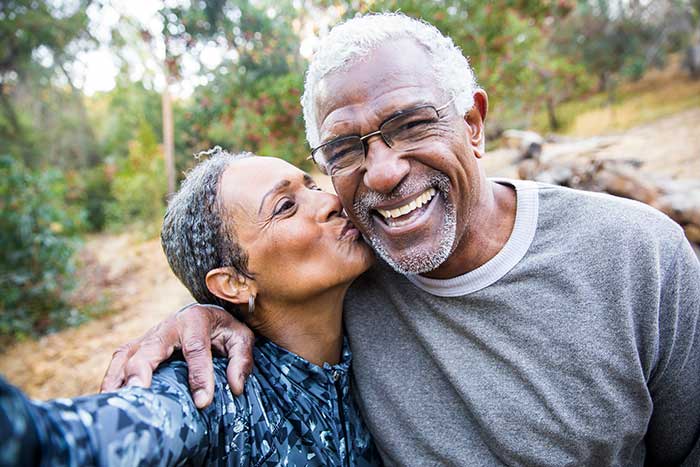 Who Can Benefit from Dentures?
Many people can benefit from dentures. They're a great way to improve your smile. If you're missing multiple teeth, dentures can come with all the following benefits and more:
Increased self-esteem
Easier eating
Improved appearance
Support to your facial features
Improved speech
Eat food you otherwise wouldn't be able to
A Comfortable and effective way to replace missing teeth
We're Big Believers in Comprehensive Care