Skip to Content
Deep Teeth Cleaning Services
Deep Teeth Cleaning in Edmonton, AB
What is A Deep Teeth Cleaning?
Sometimes your teeth need an extra boost of care. We'll ensure your teeth get the care they need with a fresh deep teeth cleaning. Our full-service dentistry at Saddleback Dental Centre in Edmonton, AB includes deep teeth cleaning to restore and rejuvenate your teeth and gums. Our deep cleaning planing and scaling process cleans your root's surfaces and removes toxins deep in the gums. Root planing smooths your teeth where the imperfections and ridges on the surface create the perfect place for bacteria buildup. Contact us for an appointment today!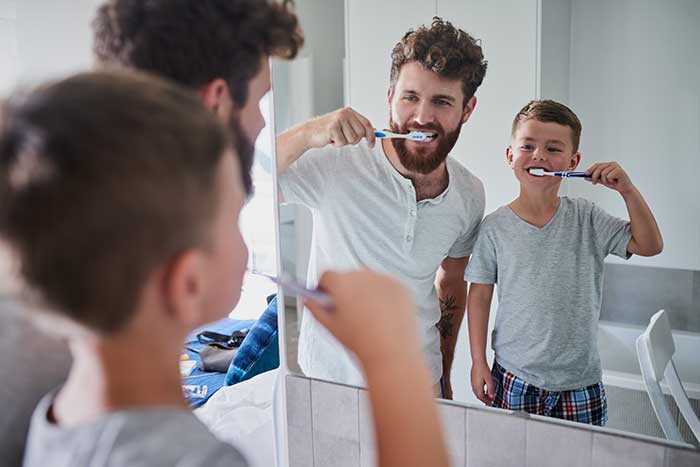 Is A Deep Cleaning Worth It?
Deep cleaning is an extensive version of our regular teeth cleaning. It's highly effective at treating gum disease. Root planing and scaling allow us to remove tartar buildup deep below the gum line down to the root of your teeth. A deep cleaning helps prevent further buildup that can lead to painful gingivitis and periodontal disease. We'll do X-rays and pocket depth readings to determine if a deep teeth cleaning is the best treatment for you.
Deep Teeth Cleaning Process
Our deep cleaning process includes:
Removal of Tartar –We'll remove tartar, the hardened material from your teeth and gums that you may miss during routine brushing and flossing.
Removal of Plaque –We remove the sticky film on top of your teeth that grow and live in saliva and food residue, producing toxins.
Root Planing –We clean and smooth the root of your teeth and pay special attention to your gums. We'll clean any excess tartar or plaque and minimize the size of the pockets that can trap bacteria.
Polishing –We polish your teeth for that shiny, fresh feeling.
How To Prevent Gum Disease
Our dental care team in Edmonton believes in continuing education on the best brushing and flossing techniques. We'll help you prevent gum disease, following a strict cleaning regime. The most important things to remember to prevent gum disease include:
Brush your teeth at least twice a day with fluoride toothpaste.
Floss after eating.
Attend routine check-ups for teeth cleanings twice a year.
Refrain from using tobacco products.
Eat a balanced diet.
Avoid sticky, sugary foods and drinks.
Place sealants on young, permanent teeth.
Symptoms of Gum Disease
Deep dental cleanings help prevent gum disease. If left untreated, gum disease can worsen and turn into periodontitis. This disease can lead to tooth loss and physical ailments. Symptoms of gingivitis include:
Dark red or purple gums
Swollen gums
Bad breath
Receding gums
Bleeding gums
Contact Saddleback Dental Centre For A Deep Cleaning
Our dental team treats our North and South Edmonton dental patients with optimal care during your deep teeth cleaning treatment. We often follow a deep cleaning with antimicrobials therapy for further preventation. We'll explain our planing and scaling process in detail with you and answer any questions about deep teeth cleaning. We'll help you prevent gum disease, freshen your mouth, and give you a new outlook on your dental health. For all your dental needs, contact us for information about our general, cosmetic, and preventative dental procedures.
We're Big Believers in Comprehensive Care