Skip to Content
Winter Whites: Taking Care of Your Teeth During the Holidays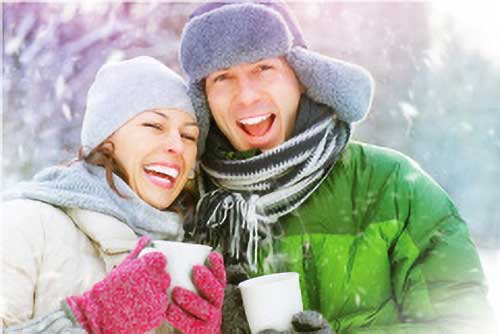 As residents of South Edmonton head towards another holiday season, calendars start to fill up with events, and people get excited about family traditions and celebrations with loved ones. Many of these traditions and celebrations involve sweet treats and drinks, which may wreak havoc on your teeth if you don't take care of them properly. Regular dental care and checkups are the best way to keep your smile looking great, but it doesn't hurt to remind yourself of some key tips before the holidays. Read below for a quick refresher on some easy ways to make sure the short holiday season doesn't leave you with long-term tooth problems!
Tips for Tooth Care this Holiday Season
Grab a Straw – Drinking sugary drinks through a straw will help limit the amount of contact the liquid has with your teeth. This will help reduce the amount of sugar on your teeth and can prevent stains, keeping your smile bright for the many photo-ops.
Chew Some Gum – Sugarless chewing gum can help prevent cavities by increasing saliva production, which cleans your teeth and mouth naturally. Chewing on a stick of sugar-free gum can also help prevent plaque buildup and balance the PH in your mouth. Take a pack with you to parties and enjoy improved dental health and fresh breath.
Indulge with a Meal – If you are indulging in some sweet treats or snacks this holiday season, try having them alongside your meal. Large meals mean more saliva production, helping to neutralize cavity-causing acid and keep sugars from sticking to your teeth.
Rinse Your Mouth – After eating something acidic, try rinsing your mouth for 15-20 seconds. This will also increase saliva production and help protect your enamel, which can be weakened when exposed to acids.
Don't Forget to Brush – While it can be tempting to forego regular routines during the holidays, brushing your teeth is one of the easiest and most effective ways to protect your teeth. Brush at least twice a day and, for extra protection, brush approximately 30 minutes after meals to prevent cavities.
If you want to look your best for the holiday season, Saddleback Dental Centre in South Edmonton can help. We are committed to keeping your smile bright and our one-hour whitening services are a great option for the holidays. Our friendly, experienced staff provide cosmetic dentistry, emergency treatments, and regular check-ups. Book your appointment by calling us at 780 437-4872 or contact us online.